Ron Ho
Obituary by Lloyd Herman
Ron Ho, internationally respected art jeweler, died at his Seattle home on September 7, 2017, due to prostate cancer that had spread in his body. He is mourned by family, friends and the arts community.
Ron was born Ronald Tau Wo Ho in Honolulu, Hawaii on November 1, 1936. In 1878, at age 20, his paternal grandfather had emigrated from Kowloon, Hong Kong, to Hawaii to work in the cane fields due to hard times in China. After several years, he was able to lease land for his own farm on Maui and asked his parents in China to arrange a marriage for him. His "picture bride" was born in a village adjacent to his own. They eventually had eight children.
Ron Ho's father quit school in the fourth grade to help on the farm, where they grew corn and lima beans during World War I, earning a remarkable $10,000 annually for several years, which he accepted in gold coins and buried around the farm. He discovered after depositing them in a bank that in the early 1930s he had the means to buy the leased farm. But, because he was not a U.S. citizen, he could not buy it, so he moved to Honolulu, where he was able to buy a house for $8,000 cash.
There he met Ron's mother, who was from Canton and spoke a different dialect, so they only spoke English at home. The couple had two other children, Natalie and Ray, and adopted a third, Tim. Natalie and Tim both survive Ron.
Showing an aptitude for art around 12 or 13, Ron also took accordion lessons and his music teacher introduced him to crafts, making shell earrings and working with copper. He recalled, in an oral history interview for the Smithsonian Archives of American Art that "I began to feel this was quite wonderful to be able to make something with your hands."
"On my mother's side of the family, we were the first ones who actually went to college," he recalled. "My sister was a year older and she went to Pacific Lutheran... and so, when I was a senior in high school she kept writing and saying, 'Well, you should really come here'... And so finally I made the decision that I would."
Earning a bachelor's degree at PLU, he was hired to teach art in Hoquiam, WA, which he enjoyed doing for two years. Then in 1960 was hired to teach in Bellevue, and enrolled at the University of Washington to begin pursuing a Masters of Art Education degree, "taking a lot of painting classes... It so happened that the last summer quarter that I was finishing up, Ramona Solberg, who was this instructor at Central Washington University in Ellensburg (WA) came to teach jewelry." he recalled. "And, actually, Ramona was a person who literally changed my life. Because at that point I didn't know I was going to be a jewelry artist, because I wasn't very good at it."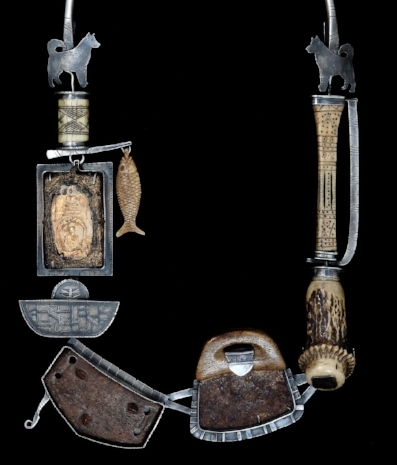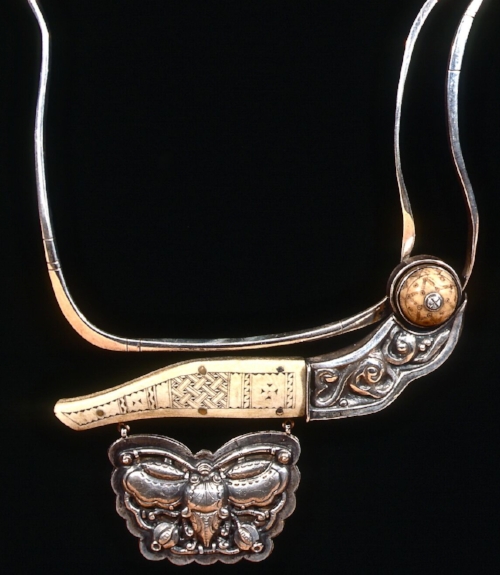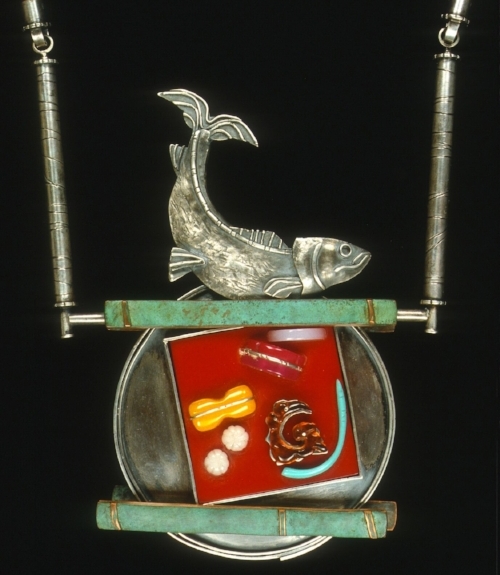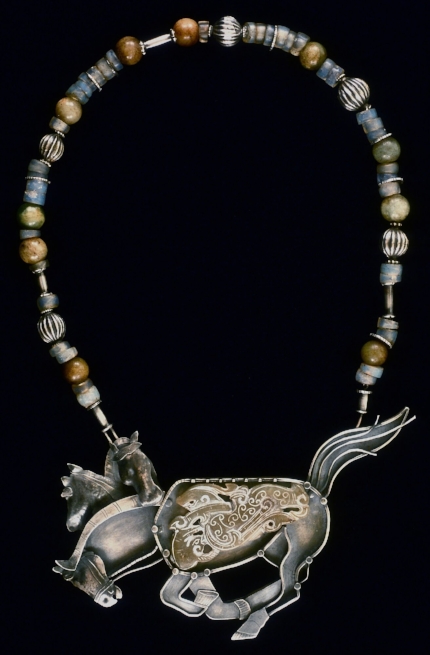 At the end of that summer Solberg transferred to the University of Washington and became a full-time professor, and taught evening classes at Bellevue Community College, and Ho enrolled. "We became quite good friends...and because she traveled around the world... she ended up picking up a lot of indigenous artifacts which she incorporated into her jewelry. And I, at that point, had never thought about the fact that you could actually use foreign found objects... She gave me a domino, an old bone domino, so I created this necklace which became the first piece that actually set me on my way as to the direction that I began to work with found objects."
Ho and Solberg became lifelong friends, and shared an interest in international travel and finding artifacts to incorporate into their respective jewelry. In the 1960s craft galleries were rare, but a few competitions provided opportunity for this art teacher and part-time jeweler, and Ho received occasional awards for his unique art jewelry.
It was his good friend Solberg who one day told him, "You know, Ron, I think you should sort of examine your Chinese heritage, because really, you drink too much Coca-Cola," he recalled.
"At first, at that time, it really didn't make a lot of sense... but when I did a series in the 1990s, of Chinese chairs, I found it was a great platform in which I could actually use some of those ideas." He continued to use found objects—largely Chinese—in jewelry, as evidenced by the 1995 exhibition at the Honolulu Museum of Art, "On Becoming Chinese" and his retrospective exhibition at the Bellevue Arts Museum in 2006, "Dim Sum at the On-On Tea Room: The Jewelry of Ron Ho." He also found time to create two public art projects, at Bailey-Boushay House and the Wing Luke Museum.
Teaching during the day and making jewelry after work was rewarding for both pursuits. He was recognized in 1988 as Asian Artist of the Year by the Wing Luke Asian Museum and given a solo exhibition. A year later, Pacific Regional Elementary Art Educator of the Year by the Washington Art Education Association, and in 1990, one of "100 Outstanding Alumni" at the centennial of Pacific Lutheran University, which recognized him again in 2004 with a Distinguished Alumnus Award.
In 1990 the Bellevue Arts Commission recognized him with their Outstanding Achievement in the Arts award. Northwest Designer Craftsmen named hm a Lifetime Award Member in 2006, and a year later the Seattle Metals Guild gave him a Lifetime Achievement Award. Finally, capping his growing recognition, the American Craft Council inducted him into its College of Fellows in 2010. He was recognized for his creativity as an artist-jeweler in numerous publications as well, and his work is in the collections of numerous museums internationally.
After his first foreign trip around 1997, to London, he traveled internationally and began to lead groups of like-minded travelers to foreign destinations, largely in southeast Asia.
Northwest Designer Craftsmen, a five-state artist organization, is completing a 30-minute biographical video on Ron Ho's life and work. Those who wish to recognize the artist are encouraged to donate here.
To read the transcript of an interview with Ron Ho conducted at his home in Seattle, Washington on May 9, 2017 by Lloyd Herman for the Archives of American Art, please click here.